Click here to read the December 2021 4C Connection newsletter.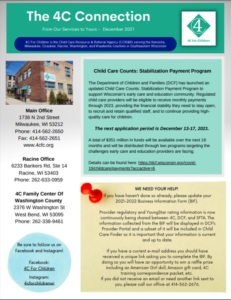 Behavior Help Wisconsin
Behavior Help Wisconsin assists early childhood care and education providers feeling challenged by the behavior of a child. We deliver one-on-one coaching so you can have the tools, knowledge, and skills to reduce challenging behaviors and promote positive ones in your program.
Click here for more information: https://supportingfamiliestogether.org/behavior-help-wisconsin/
Milwaukee Coalition for Children's Mental Health
4C For Children is happy to partner with the Milwaukee Coalition for Children's Mental Health – CCMH – to provide resources for supporting our children and child care programs and teachers. CCMH is identifying one key experience that has negative effects on a child's social and emotional development and emphasizing ways that can be prevented. That is the experience of being excluded from the early childhood classroom; specifically, the experience of expulsion. Studies have found that children are expelled from early learning programs at three times the rate of children in elementary through high school, combined.   CCMH has put together tip sheets on this topic. The tip sheets provide information on the effects of early childhood expulsion, and steps you can take to support the child and their family. Click here to find them.
Please copy and share the tip sheets with co-workers, parents, and anyone who has influence on the development of a young child. More information can be found on the CCMH website: https://www.mkekids.org/
Wisconsin Alliance for Infant Mental Health
The Wisconsin Alliance for Infant Mental Health team has been busy creating a resource document to support providers, families and children through the transition back in to care as areas across the state, and nation, begin to re-open.
Click here for Tips for Supporting Infants and Young Children as We Re-Open